Welcome to the Fine Designs Website
Web Host | Graphic Design | Website Design
Fine Designs is a dynamic and professional Web and Graphic Design studio based in Bloemfontein, ready to add value to your products and/or business.
Fine Designs based in Bloemfontein offers a complete graphic design & web solution for business, having our client's best interest in mind; we also revamp and update an existing business graphic image or impression.
Setting up a new business Fine Designs can provide essential things like designing a company logo and webhost your business email account together with the professional website to boost client confidence and letting customer know what you're all about.
Fine Designs also takes care of all signage, litho-printing, digital-printing & large format printing and we design all company stationery, expo media, promotional merchandise & corporate branding.
Fine Designs offers a complete graphic and web-solution, able to handle all your printing, from company stationery, expo printed media, promotional & corporate merchandise.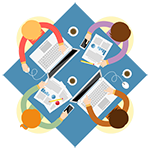 Logo Design | Graphic Design
We design from logos to complete corporate identity that covers all products, presentation material, company stationary, conference material, branded merchandise  to multimedia interactive presentations, providing you with a complete illustrated manual & colour guide of your company branding design standards to guide colour, image & design consistency.
Domain | Web Host Services
Domain is the website internet adres or name you choose to be identified with your business or company, there are Local domain for instance in South Africa most common domains are .co.za and org.za, and international there is .com, .net, .org and .info to name a few.
Webhost is the Server computer that handles your email account and also where the file for your website is stored.
Fine Designs offers a world class web host services with various web-server packages from domain email host services alone to full website & email web hosting service.
Websites | Web Design
We create modern and powerful designs with lots animation and features.
We create modern and powerful html5 and css3 code easy for read and customize. We stay up to date on the most current web design trends so you can be assured your website tops your competition.
So if you need a website designed for you or your business or maybe you are looking for a website redesign feel free to contact us today for a free website quote.